Low-light plants are a boon for home gardeners. Succulent houseplants are the flavor of the season for contemporary gardeners.
So, growing low-light succulents won't be a dumb idea, what do you say? Succulents are naturally hardy and have the power of low maintenance.
However, you must consider that low light doesn't refer to no light and you have to fulfill the light requirements of these succulents adequately.
Before getting to the list here are some fun ways to display these low-light succulents
Creative and Cute Ways to Display Succulents
Terrariums
Hanging baskets
Decorative pots
Wall planters
Book Shelf Display
Table Center Piece
Now let's find out what are the best-looking low-light succulents to grow in your house or office place in our quick discussion below-
10 Best Low Light Succulents & Cacti
Lace Aloe:
Lace Aloe is an attractive and hardy plant, perfect for those looking to spruce up their home's interior with minimal effort.
It can survive in low light and is a great choice for anyone looking for an easy-to-care-for succulent. With its unique and intricate foliage, it's sure to add a touch of beauty to any room.
Learn more about the unique qualities of Lace Aloe and why it makes such a great low-light succulent.
Description:
Lace aloe is a dwarf succulent plant that belongs to the Asphodelaceae
This plant produces fleshy lance-shaped leaves coated with tiny white blotches
The foliage of this pant is tipped with soft white spines with side pups
Size:
It can grow up to 4 inches long with 10-12 inches spread
Caring Tips:
Apart from low light, it can stand low to medium growing temperature
This succulent is drought-tolerant and thus you don't need to water it much
Pick a dry, rich, and fully fertile soil type with well-drained quality
Related: Best trailing succulents for my hanging basket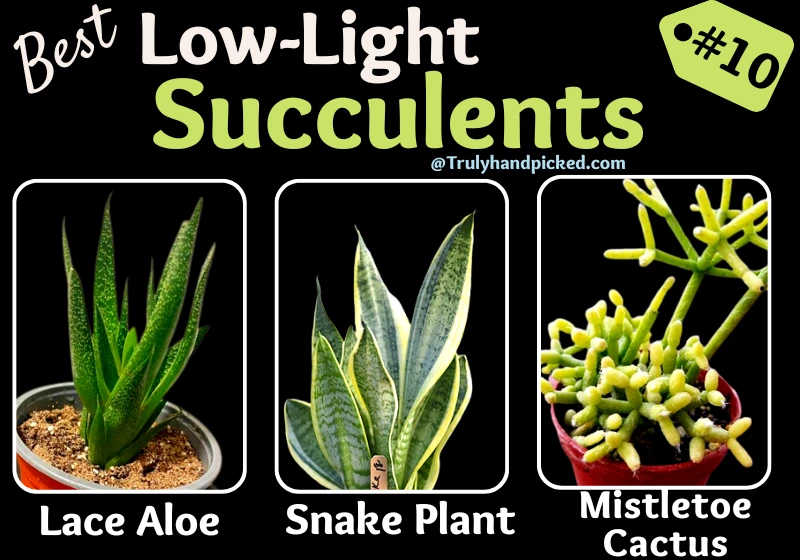 Snake Plant:
Description:
The snake plant is one of the most good-looking succulents with a perfect decorative glance
This species of succulent houseplant can grow leaves with a sword-like shape
Its foliage can thrive only in a few inches with a flat green surface
Leaves grow with various marking variegations relying on the selective specie
Size:
It can thrive up to 4 ft. long with 1-2 ft. widespread
Caring Tips:
Sow your plant dry and well-drained soil
Keep your plant away from direct sunlight
Its water requirement is minimal and lets the soil dry between watering
Related: How often to water Succulents – Quick Care Tips
Will a snake plant be happy in a bathroom?
Yes, a snake plant can do very well in a bathroom. The humidity and low light levels of a bathroom create an ideal environment for this plant.
Additionally, the snake plant is known to be one of the best air-purifying plants, so it can help reduce airborne toxins in the bathroom. Just make sure to provide the snake plant with plenty of indirect sunlight and water it when the soil is dry.
Before jumping on to the next plant let's learn
What Makes Low Light Succulents Special
Tolerate low-light conditions: Low-light succulents are able to thrive in areas with less light compared to other succulent varieties.
Adaptable: Low-light succulents are adaptable and can adjust to different lighting conditions. They can also tolerate low humidity levels.
Slow-growing: Low-light succulents grow at a slower pace compared to those in higher-light conditions. This makes them ideal for indoor spaces with limited space.
Drought-tolerant: Like all succulents, they are drought-tolerant and can go for long periods without water.
Smaller in size: Low-light succulents are typically smaller in size compared to other succulent varieties. This makes them ideal for growing in small containers or terrariums.
Unique shapes and colors: Low-light succulents come in a variety of unique shapes and colors, ranging from the string of pearls to the snake plant.
Less maintenance: Low-light succulents require less maintenance compared to other indoor plants, making them ideal for busy individuals who want to add greenery to their homes without too much upkeep.
Mistletoe Cactus:
Description:
Mistletoe is a cactus genus that is native to South Africa
It grows finger-like skinny leaves in a bright green shade
This cactus plant produces foliage with a fleshy and needleless form
Size:
It can grow up to 6 ft. tall with a 2 ft. height
Caring Tips:
Never place this plant under full sun or bright light
It prefers regular watering with the best-draining soil
This species is a moderate feeder so feed it once to twice a year with a balanced fertilizer
Related: How to save overwatered Succulents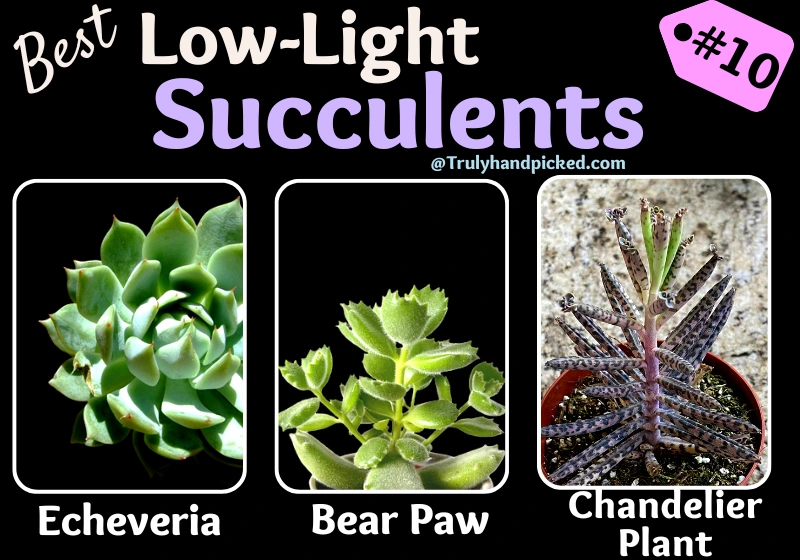 Echeveria:
Description:
This species of cacti family grows like a flower when it thrives fully with unique foliage
It is a highly recognizable succulent that produces leaves in various tints and shapes
The restricted center part should not be elongated to hold the proper blossom-like shape
Size:
This succulent can grow up to 12 inches tall with the similar spread
Caring Tips:
It can thrive under bright indirect light but prefer to provide low light to hold its proper shape
Water your plant regularly from spring to fall and then reduce it once a week
These thick-leaf rosettes do not require fertilizer; making the soil of your plant fully fertile during the plantation would be enough
Related: Quick care tips for aloe vera – yellowing leaves
Bear Paws:
Description:
This perennial succulent looks like the cute paws of bears when it thrives fully
It produces thick fuzzy leaves with a twist of red edges that provide it an exclusive peek
Bear paws can bloom with bell-shaped orangish flowers during springtime with proper care
Size:
It can grow up to 1 ft. tall with an equal amount of spread
Caring Tips:
It can stand bright direct sun but thrive best when placed in low-light condition
Water weekly but only when the top 1-2 inches of the soil seems dry
Prune and propagate this succulent yearly to hold the best catchy look of it
Chandelier Plant:
Description:
It is one more perennial succulent but with the heavy blooming capacity
This plant grows nice scallop-shaped foliage in a dark green shade
Sometimes, it can bloom with a bright orangish yellow flower cluster with the perfect care
Size:
It can grow 6 to 12 inches tall with the same spread
Caring Tips:
Try to provide the plant with medium to low light conditions to thrive
Water your plant weekly and let the soil dry between watering
Choose well-drained soil to sow this plant as it can't stand soggy soil ever
Happy Bean (Peperomia Green Bean):
Description:
Happy beans are one of the best succulents for office interior
This attractive succulent originates from Peru and belongs to the Piperaceae
It produces bean-like leaves in the lime green shade with a slender pattern
Size:
It can grow up to 12 to 24 inches with 3-4 inches spread
Caring Tips:
Place your succulent in a semi-shade spot with a lot of air circulation
Water your plant moderately in summer and less in other seasons
Feed it with a balanced liquid fertilizer once every two weeks during the peak months
Related: Root rot in aloe vera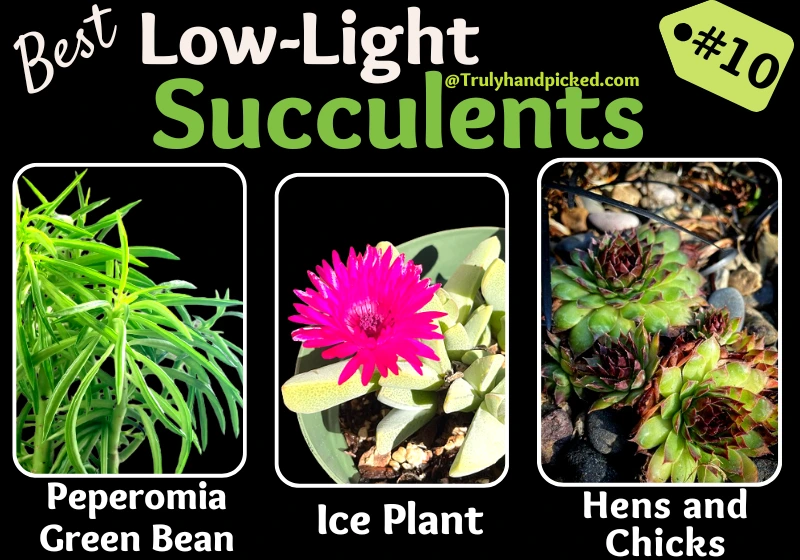 Hens and Chicks:
Description:
It is one more brilliant low-light succulent option if you like flower-like succulent pattern
Most of the genera can stand full sun but a few species prefer low light with partial sun
It produces rubbery-like thick, fleshy; rosettes leave that are low to the ground
Size:
It can grow only 1-2 inches tall with 5-6 inches spread
Caring Tips:
Apart from low light, this beautiful succulent needs a very low amount of water as well
Use fast-draining soil with properly fertile and slightly acidic quality
Multiply and propagate your fully grown hens and chicks once a year to keep them healthy
Related: Best plants that are drought tolerant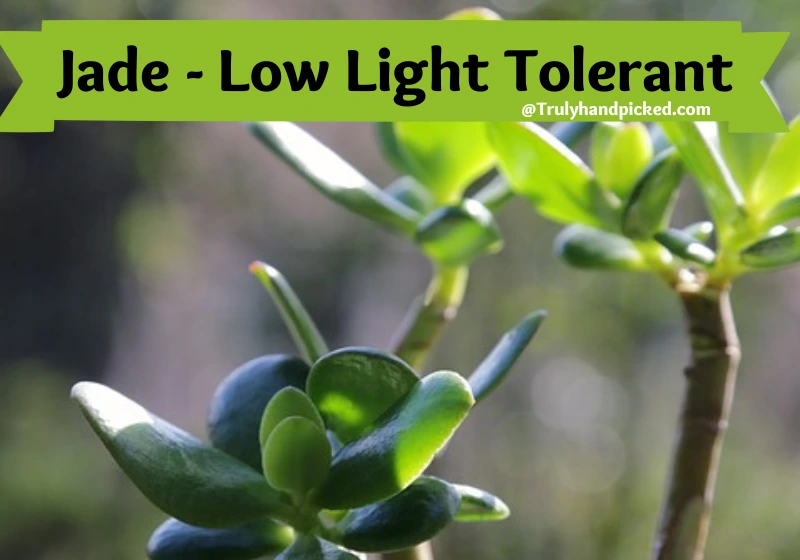 Description:
The Jade plant is a super-pretty succulent with a small and well-manageable form
This perennial succulent produces ovals-shaped fleshy green leaves
Its tree trunk-like stems are quite hardy comparing other succulent stems
Size:
It can grow up to 6 ft. tall with a 2 to 3 ft. spread
Caring Tips:
A Jade plant can tolerate bright sunlight but it prefers low to medium light to thrive best
Water it only when the top 1-2 inches of soil seems dry and thirsty
You can propagate them from their cuttings to let them hold a proper shape eternally
Ice Plant:
Description:
This perennial plant is famous for its vibrant flowers more than its succulent leaves
Ice plant produces bladder-like hairs on the leaf surface which can reflect light like ice crystals
This plant grows daisy-like flowers in various bright shades during spring to early summer
Size:
It grows up to 6 inches tall with a wide 20-24 inch spread
Caring Tips:
Pick a dry to sandy-type soil that can drain well with a neutral pH level
It can thrive in any condition like under full sun, sun with partial shade full shade
You don't need to water your plant much once it gets established properly
So, these are the best possible choice to pick from as a low-light succulent. Try to cultivate any one of them and make your house or office area fill with refinement like you always desire.