Drought-tolerant plants are like boons for people, who don't have time for regular gardening. You don't have to water them daily or weekly with a consistent watering schedule.
These kinds of plants can be kept in underwatering conditions for long and still do well being buoyant. Fortunately, the list of such plants is long!
Here we emerge with some of those wonderful plant ideas, which can do well without water for several weeks or even months in completely dry soil. Let's take a quick look at them-
Drought Tolerant Plants That Don't Need Much Watering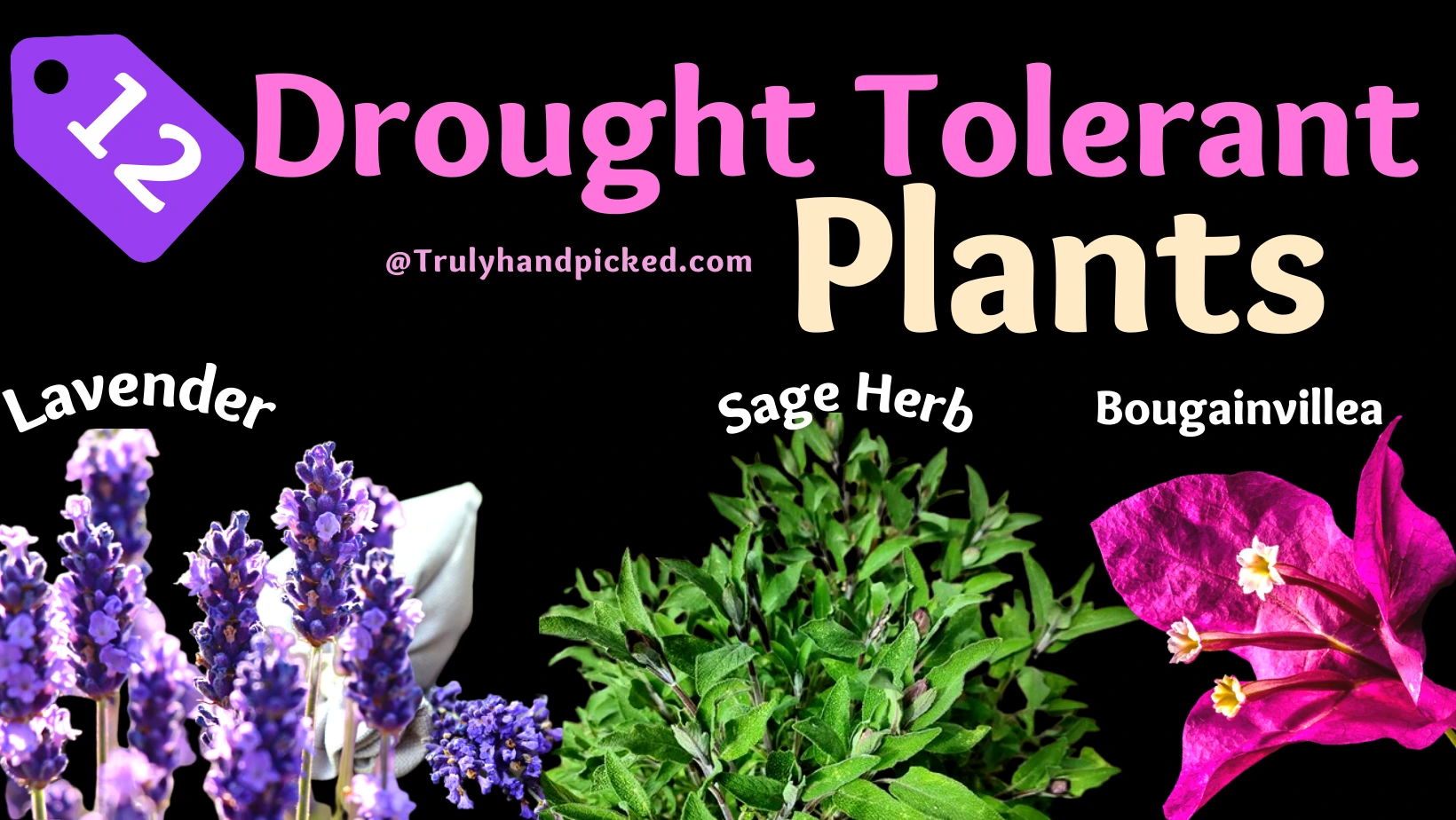 Lavender:
About The Plant:
This therapeutic flowering herb is an easy-to-grow plant that can adapt to any kind of growing circumstance easily. It can survive almost 1 year, without watering and still blooms naturally.
Growing Tips:
Pick the species of Spanish lavender to grow as a drought-tolerant one
Try to water your plant regularly unless it reaches a medium height
Prune your plant consistently every week to encourage its bushy growth
And keep it in USDA zone 5-9
Related: Plants that grow in water – best hydroponic plants.
Sage:
About The Plant:
This is one more beneficial herb that can tolerate water scarcity easily. Sage is one of those plants, which doesn't need any kind of moist source to thrive, even, if it places under direct and bright light.
Growing Tips:
Keep this plant under low-watering as much as you can
Place it under full sun exposure and direct sunlight
Prune the woody stems of this perennial herb once every few weeks
Keep it in USDA zone 5 through 10
Related: How to save an overwatered succulent
Bougainvillea:
About The Plant:
Bougainville is a great flowering plant that is noted for its attractive blossoms. Its thorny, decorative bush can remain thriving without watering for several months. You can cultivate this easy-to-grow flowering vine effortlessly as a houseplant.
Related: Bougainvillea not blooming
Growing Tips:
A Bougainville vine thrives best under full sun exposure
Provide training support to your plant to get the best height from it
water your plant once a month until it reaches the blooming session, then you can skip watering for long
Keep it USDA zone 5 to 11
Jade Plant:
About The Plant:
Jade plant is a bonsai that grows up to 3-8 feet long with a hard stem and tiny succulent foliage. This could be a perfect houseplant due to being an easy-to-maintain and drought-tolerant plant. It produces fleshy paddle-shaped leaves over a brownish strong stem.
Growing Tips:
Place our plant under full sun exposure to provide 6-8 hours of light every day
Use water-soluble fertilizer once a while
And water the plant once every 3 weeks until it reaches a moderate height
Keep the plant under USDA zone 9 to 12
Desert Rose – Adenium:
About The Plant:
The desert rose is another beautiful flowering plant, that can do well without water for several weeks. This is basically a tropical succulent, and thus, thrives easily without any moist source.
Growing Tips:
Try to place it in a place with indirect sunlight
Keep the plant away from direct sun exposure for too long
It prefers a cooler climate to thrive well
And place your plant in a USDA zone between 9-12
Cacti:
About The Plant:
Cacti are desert succulent and they can thrive extremely with low water and sometimes even without water. They are adaptable to many types of growing conditions. Hence, you can cultivate them indoors as an ornamental houseplant as well.
Also read: Why my cactus won't bloom
Growing Tips:
It can tolerate bright light but try to provide indirect light to get the best thrive
Make the soil fertile enough during the plantation
Pick the prickly pear species of cactus, when you are going to grow it without watering
Keep this plant under the USDA zone between 6 to 12
Blanket Flower:
About The Plant:
Blanket flower is one brilliant option to mention in this regard. This lovely flowering plant needs occasional watering to thrive and bloom well. It cultivates well when grown outdoors in an open yard, due to its super bushy form.
Growing Tips:
Keep your plant in a sunny spot, where it could grab 8-10 hours of sunlight daily
Use slightly acidic and poor soil to cultivate this plant
Skip fertilizing for this plant to keep the blooming production uninterrupted
Keep it under USDA zone 3 to 10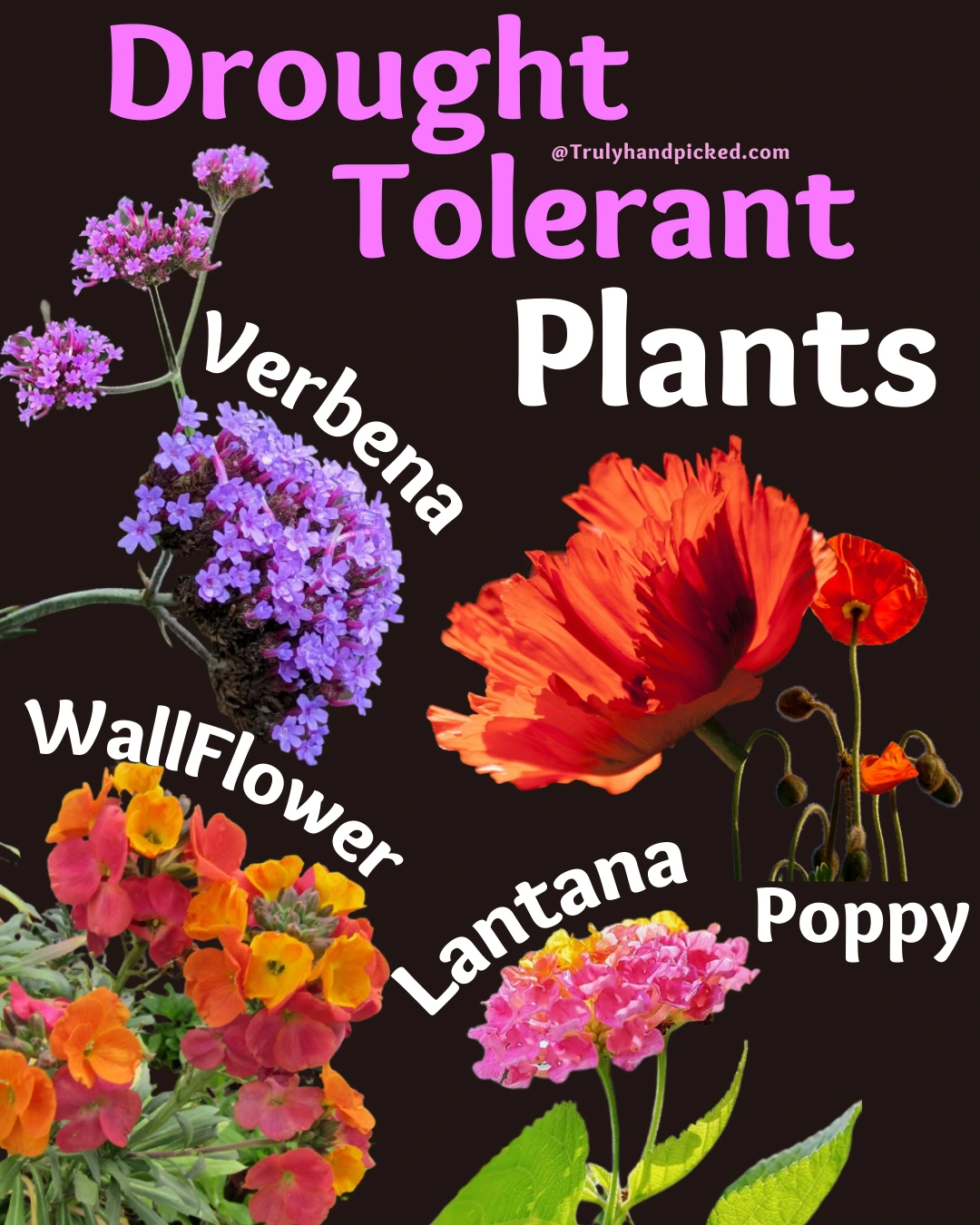 Wallflower – Erysimum:
About The Plant:
The wallflower is a great flowering plant to grow without water. This drought-tolerant perennial plant is short-lived and noted for its nice fragrance. It grows in a bushy form and blooms in the cluster. Wallflower prefers occasional watering to grab its adequate moisture sufficiently.
Growing Tips:
Place it under full sun exposure
Prune the bushy stems once every 2-3 weeks to encourage the new shoots
Water the plant occasionally until it reaches the blooming session before stopping watering
Keep it under USDA zone 6 to 9
Lantana:
About The Plant:
Lantana is another wonderful choice to grow in your garden without worrying about watering much. This drought-tolerant plant is native to the tropical area and thus, thrives well with the schedule of low-watering or no-watering at all. It produces supremely attractive flowers in the vibrant shade around sleeky green foliage.
Growing Tips:
Try to grow lantana in pots to get the best drought-tolerant quality of this species
Put it in a bright and sunny spot to provide adequate light
Skip the fertilization as much as you can, because lantana is a low-feeder plant
Keep it in USDA zone 9 to 11
Verbena:
About The Plant:
Like lantana, verbena is a bushy flowering plant that grows best in an open outdoor garden area. It blooms tiny blossoms in clusters with various elegant shades around lime-green small foliage. you need to use the wide-open planter to sow a verbena plant if you are planning to cultivate it indoors.
Growing Tips:
Place this perennial shrub under full sun exposure
Maintain the temperature quite warmer with moderate humidity
Always use well-drained soil as the growing medium, no matter how less you water that soil
Keep it under USDA zone 9 to 11
Poppy:
About The Plant:
Poppy is one more highly precious flowering plant that can thrive in moderate to low-watering climates. It can grow up to 3-5 feet tall while fully grown. Thus, you can cultivate this plant easily indoors in a restricted planter. just make sure you provide the plant proper growing climate to keep it healthy.
Growing Tips:
Place the plant in a warm sunny location
Water the newly grown plants once a week and then reduce the watering gradually
Prune your plant often and keep weeds-free attentively for the entire growing session
Keep it under the USDA zone 3 to 8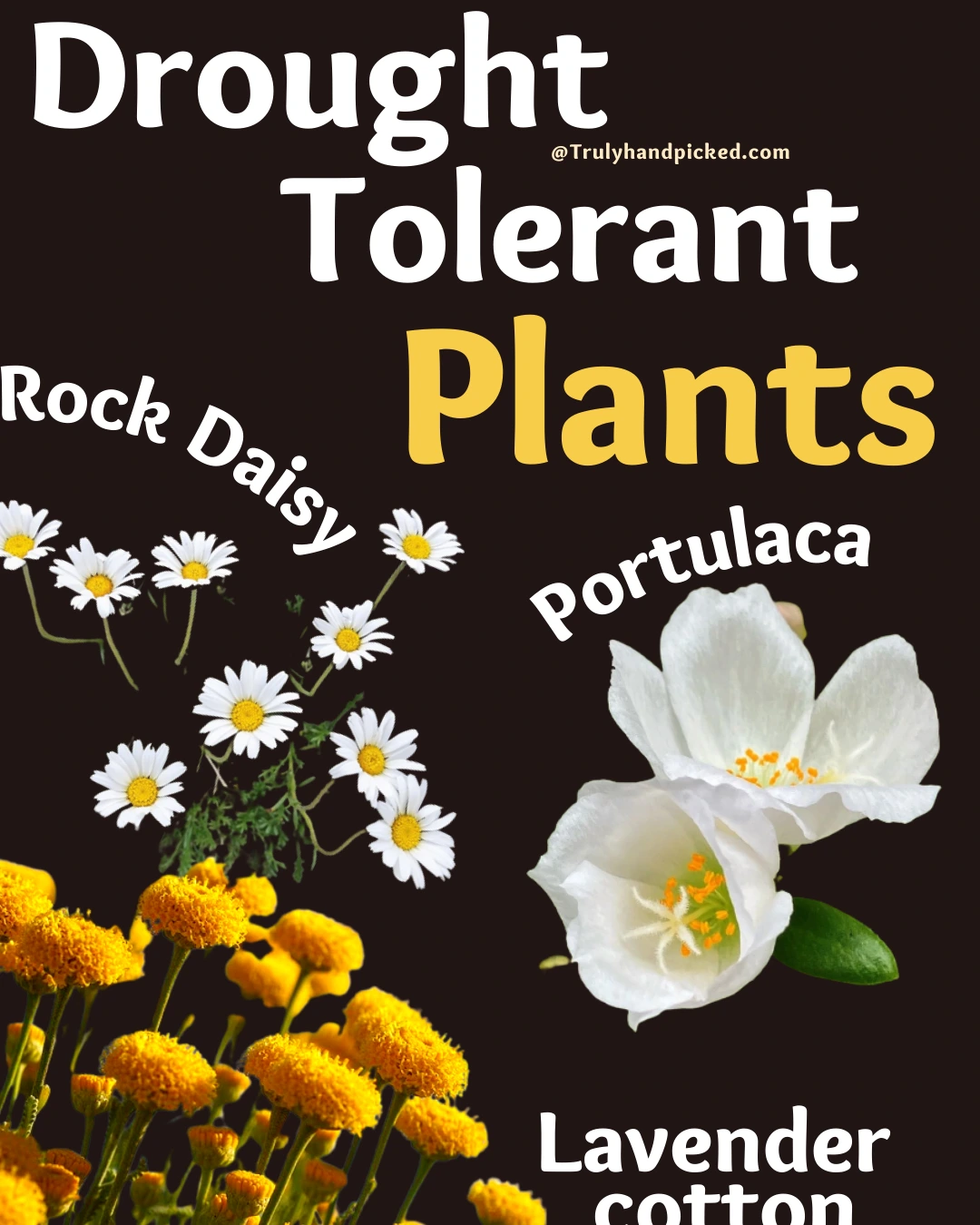 Rock Daisy:
About The Plant:
Rock daisy is a drought-tolerant species of daisy that produce equally striking blooms like a daisy but with less care. This plant is perfect for a rock garden atmosphere. Try to take a little care of this plant till it reaches an adequate height, before going water-free.
Growing Tips:
Place your plant under full sun to get the best blooming form
Water your plant thoroughly until it establishes well
Use a well-draining growing medium and apply mulching for the first couple of weeks after sowing the plant
Keep it under the USDA zone 5 to 11.
Few More Drought Tolerant Plants
Potulaca – Mose Rose
Lavender Cotton
Globe Thistle
Spurge
Rock Soapwart
Stonecrop
Yarrow
Rock Cress