Most landscape gardeners concentrate on vibrant flowering plants to make their lawns beautiful. However, do you ever wait for a moment and think of adding a white dash to that bright landscaping view? Well, the white color might seem pale and subtle, but it displays catchy when grown around green foliage along with other vibrant blossoms.
Plants With White Flowers for Your Garden: Apart from adding vivid colorful flowering plants try these graceful white flowering plants for your garden which are pleasant, pleasing, and calming too. 1 Daffodil 2 Daisy 3 Lilac 4 Peony 5 Petunia 6 Hydrangea 7 Sweet Allysum 8 Butterfly Bush 9 Nemesia 10 Star Jasmine
No matter, whether you choose perennials or shrubs with white flowers for your landscape garden area, try to sow them in a cluster to steal an elegant look exclusively for your outdoor garden.
Here we come up with the best 10 white flowering plants, which are easy to care for and produce ample graceful white blossoms with just some basic growing methods. Let's check them out along with their essential caring tips-
10 Enchanting Plants With White Flowers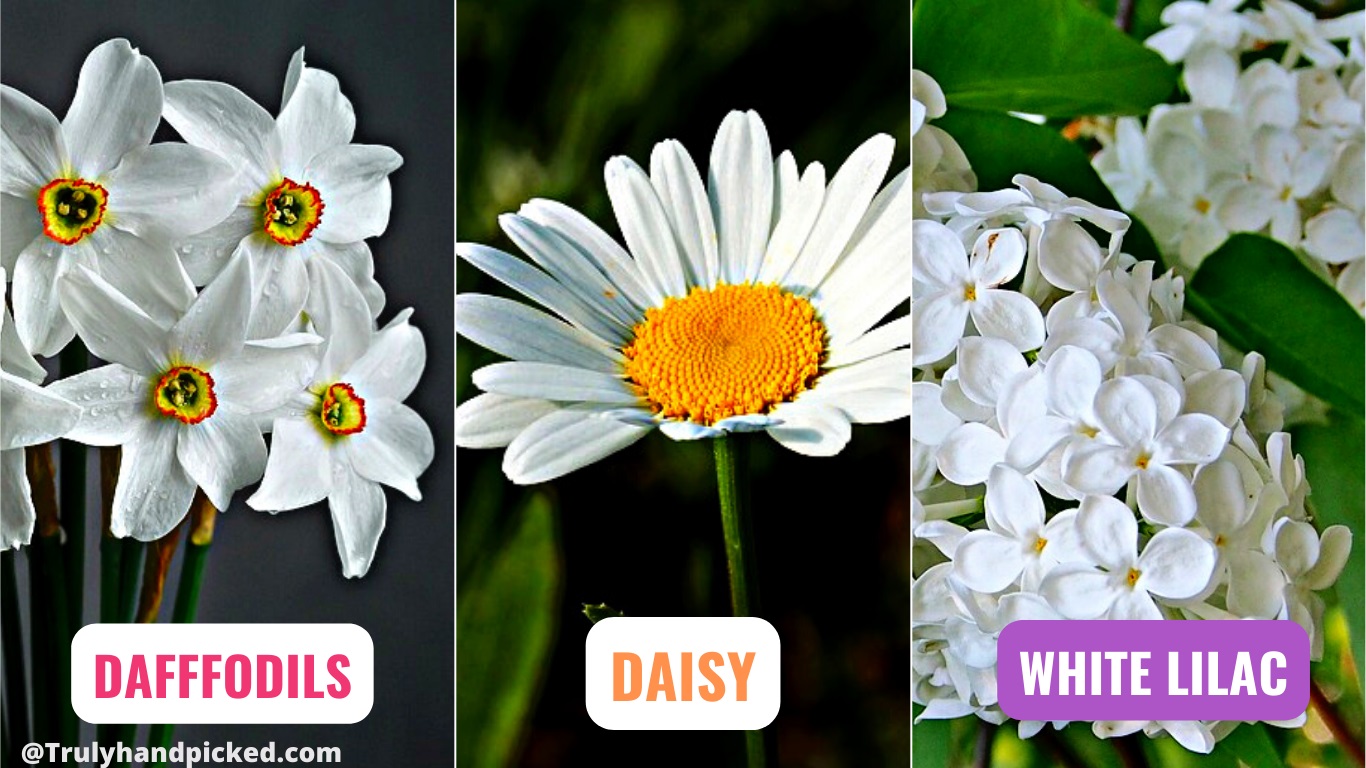 Daffodil:
Daffodils are one of the commonest landscape garden plants, which people always pick for graceful white blossoms. This perennial plant will fill your garden with white bulb flowers entirely during the spring season of the year.
Requirements For Proper Growth:
Plants need normal garden soil that is well-drained and moderately rich
Provide full sun to sun with partial shade
It has moderate water needs about once a week
Feed your garden daffodils once a year with normally diluted fertilizer
Looking for contracting colors? then check out these plants with red leaves and red flowering shrubs for your garden.
Daisy:
White daisy or Shasta daisy would be a wonderful choice to have elegant white flowers in your landscape. Its yellow pistil around white petals makes the flowers more eye-catchy glance among green foliage.
How to care for daisy:
It requires normal loose planting soil that drains well
Plants do well under full sun
Daisy plants are hardy enough and thus you don't need to care about the climate more
The plant can tolerate high temperatures up to 90 degrees F during its flowering session
Related: Plants with orange flowers
Lilac:
White lilac is something you must have in your yard once in your life if you have a wide landscape garden area. Lilac produces tiny flowers in clusters in a milky white shade, that's why this flower is known as 'white angel' beside lilac.
How to care for lilac
Plants need full sun exposure to thrive healthily
Plant it in well-drained soil that must be mediumly rich
Its water requirement is moderate and keeps the soil medium moist consistently
Plants can tolerate any normal climate with moderate hardiness around 5 to 7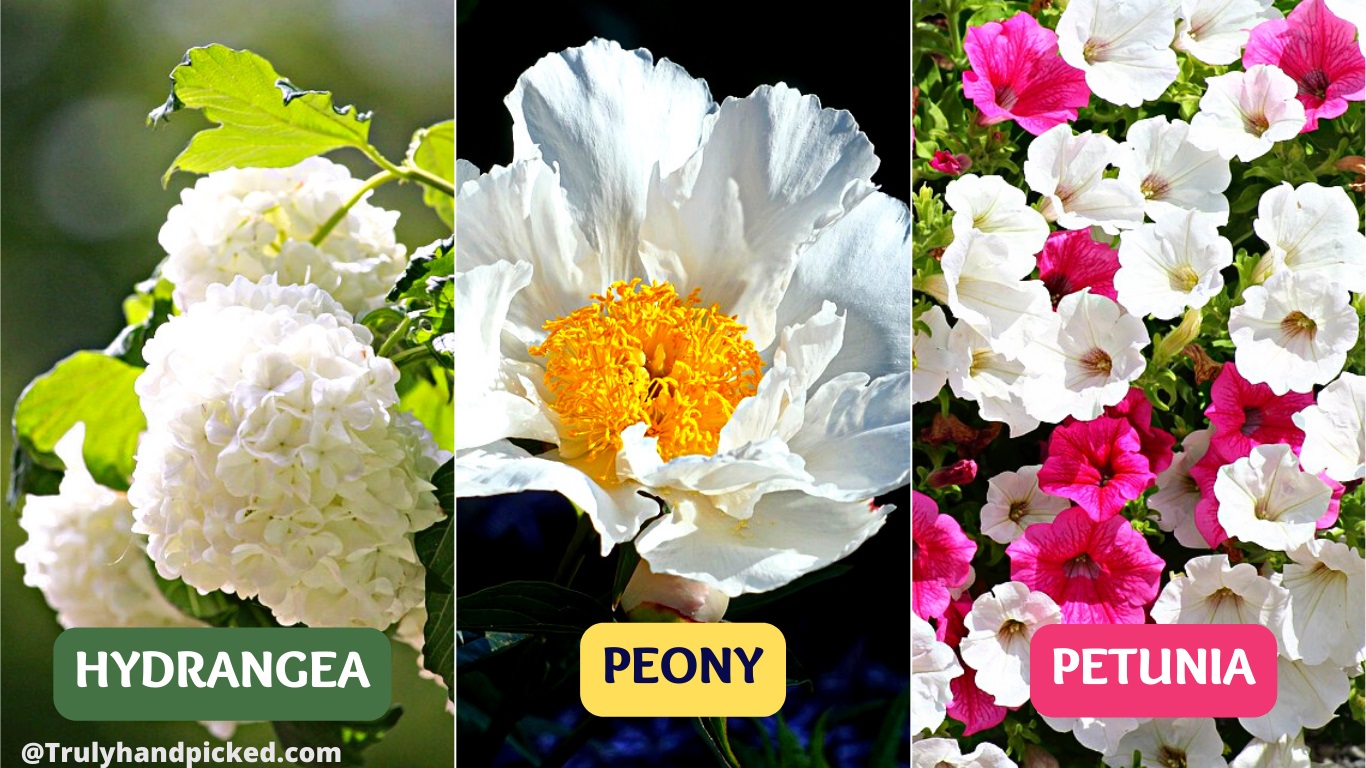 Peony:
A peony is one more white flower with a yellow pistil part. This species of white flowering plant provides an amazing fragrance from its classy-looking white flowers. Its flowering time is summer, around May to June.
Peony Care
It can tolerate any normal type of soil in garden beds, make sure it drains well
Water needs are moderate but make sure soil never gets soggy for a perfect root system
Amend the soil with organic plant food and fertilize your plant once a year
Be certain about the temperature and never let the temperature lower than 35 degrees F, ever.
If you are worried about an overwatered indoor plant this could help –learn how to revive an overwatered peace lily.
Petunia:
If you are looking for a white flower with some colorful hue, then, petunia is a great pick to grow in your outdoor garden area. Plants grow wide catchy flowers with an olive-green hue. Try to grow plenty of plants in a row to revamp the glance of your garden with an exclusive touch.
Requirements For Proper Growth:
Plant petunia in normal garden beds soil amend with loose well-drained soil
Water your plants once a week and always try deep watering as it is a thirsty species
Try any time-released fertilizer and use 2 pounds per 1000 square feet of garden area
Plants can grow 1-4 feet bushier thus, maintaining 2 feet gap between plants while sowing
White hydrangea is a brilliant option to pick to redecorate your landscape with the touch of milky white shade. Plants produce flowers in large bunches and thus, resemble amazing ones while blooming in a cluster.
Requirements For Proper Growth:
Plants do good in loose acidic soil that drains well and has a pH level between 5.5 to 6.5
These plants are thirsty thus, try 2-3 times watering per week during the first growing session
Use any all-purpose slow-release fertilizer that must be rich in nitrogen content
Hydrangea plants thrive best under full sun to the sun with partial shade in both conditions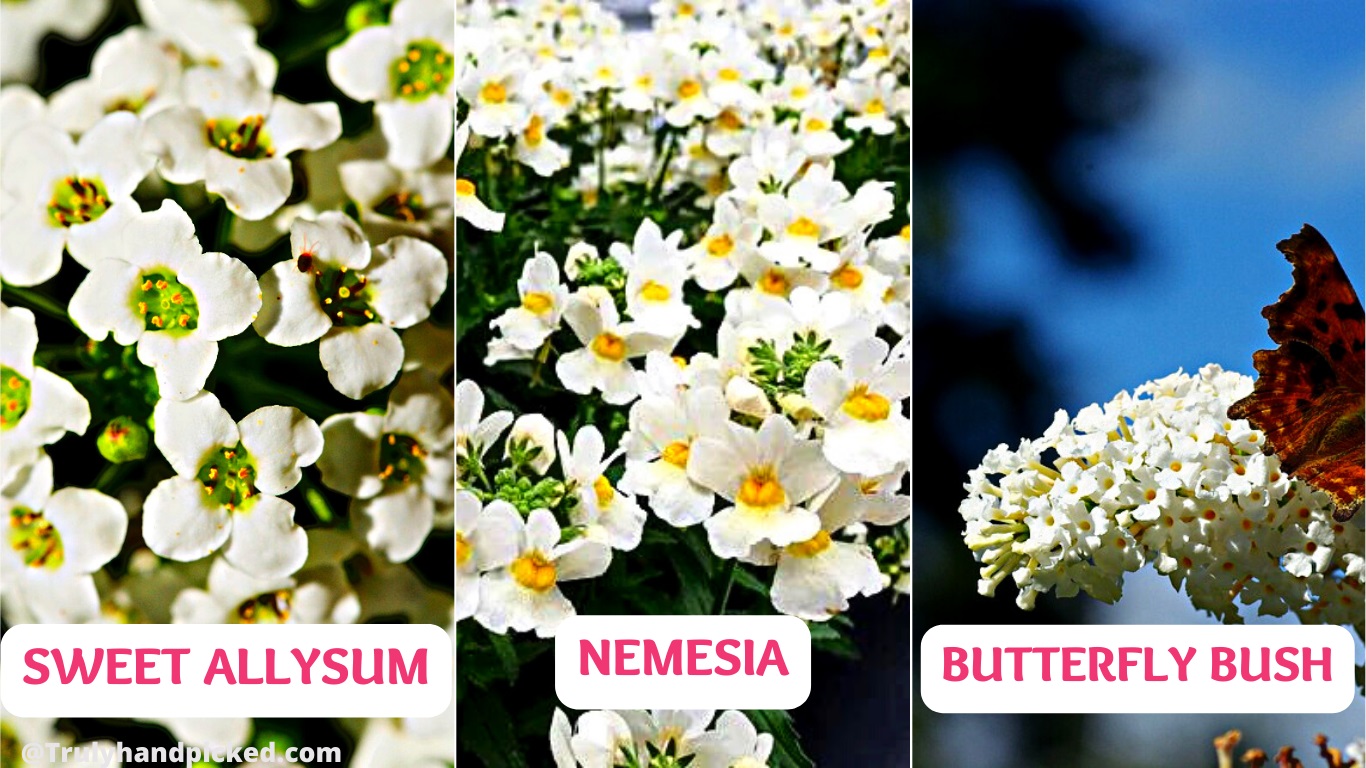 Sweet Allysum:
If you love to see tiny white flowers around bright green foliage then, sweet alyssum would be a nice pick for you. This species of white flowering can glance amazing in both outdoor to indoor garden areas. Its honey-like fragrance is one more add-in to this beautiful flowering plant apart from its exclusive display.
Requirements For Proper Growth:
This vining plant likes moderately moist well-drained soil that is rich enough
Plants can tolerate full sun to sun with partial shade, depending on the growing session
It has moderate water needs, try once a week with 1-inch depth watering
Try to prune the plant once every few whiles to keep its over-bushy texture properly organized
Butterfly Bush:
Some genus of butterfly bush grows beautiful white flowers and seems amazing while cultivated in rows in a landscaped garden area. Plants can grow up to 15 feet tall with normal care and moderate planting requirements.
Requirements For Proper Growth:
A plant butterfly bush in well-drained and loose-type soil
It is a thirsty species, so, try to water twice a week, especially during the initial growing period
Butterfly bush doesn't need fertilization, so amend your soil rich enough during the plantation
Plants can tolerate normal to hard climates; just try to provide mild protection during the heavy winter days
Just like butterflies, you lure pollinators to your garden – learn how to attract bees to your garden with fragrant and catchy flowers.
Nemesia:
It is an annual flowering plant that produces white flowers sometimes, besides other vibrant colored blossoms. This is one of the easy-to-care plants that grow white flowers for landscape gardening.
Requirements For Proper Growth:
Plants do well in loose, evenly moist and well-drained soil amend with perlite or sand
It can stand full sun and needs at least 6-7 hours of direct sunlight daily to thrive best
Nemesia plants are less thirsty than other landscape plants, thus, water only once throughout the entire active growing session
It is a moderate feeder, try to fertilize once a year with any nitrogen-rich plant food
Pinterest Image: Plants with white flowers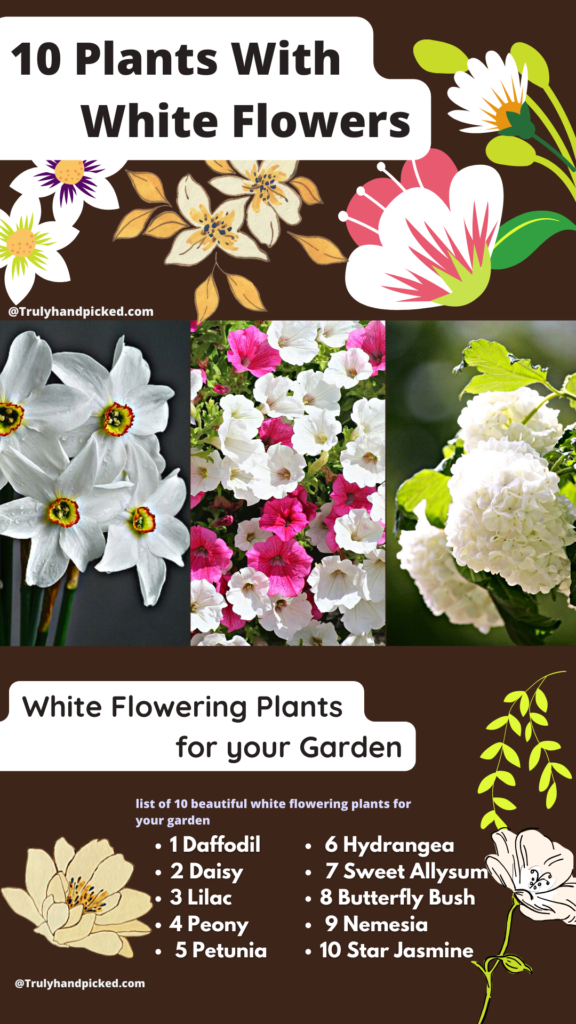 Star Jasmine:
White jasmine may not produce wide or vivid white flowers, but its tiny white blossoms provide a subtle elegance to your place when growing in a white star shape. It is a vining species and thus, resemblance best while growing vertically than horizontally.
Want to repel flies in a sweet way? here you go check out some fragrant flowering plants to repel flies.
Requirements For Proper Growth:
Plants require moderate-quality soil of normal garden beds that must be drained well
It doesn't need much watering, especially while growing vertically, wait for natural water like rainwater than artificial watering
This plant doesn't need much fertilization, try once a year with any time-released normal plant food
It can tolerate bright direct sunlight with full sun exposure and high summer temperature without any difficulties.