It's hard for the utmost plants to survive in a place where winds never stop blowing. Wind-tolerant plants are the right pick for you if you have a nice outdoor area but can't dare to cultivate plants for the tyranny of heavy winds.
You can't control the weather in an open yard but what you can do is that growing plants, which match the climate of your place effortlessly.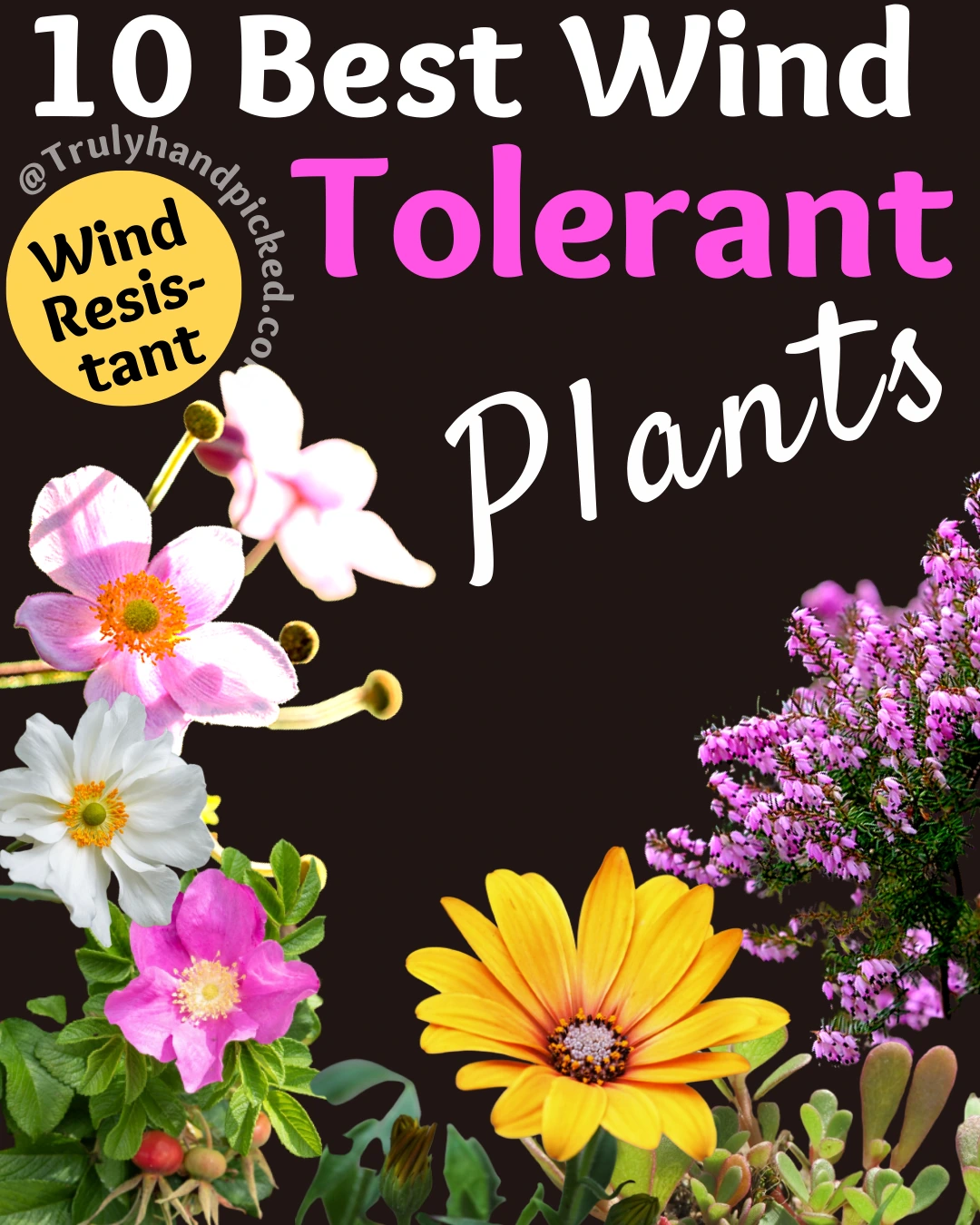 So, here we go the best 10 options on this topic, let's explore them quickly and make your garden eternally extracting without any worry of uncontrollable breeze-
10 Best Wind-tolerant Plants For Windy Gardens
Rosa Rugosa:
Description:
This is a rose species that is native to the eastern Asia regions
It naturally grows on beaches and is thus heavily wind tolerant
Apart from its incredible hardiness, this plant is appreciated for its super pretty blossoms
It grows green foliage on a frond-like shape and multi-petal vibrant flowers with a yellowish pistil part
Caring Tips:
This perennial shrub grows best in loamy and most types of soil with well-drained quality
Keep the soil pH purely acidic and place them under full sun
To keep the soil moist but not soggy, hydrate your plant one inch deep watering per week
Apply a slow-release fertilizer once a year in liquid form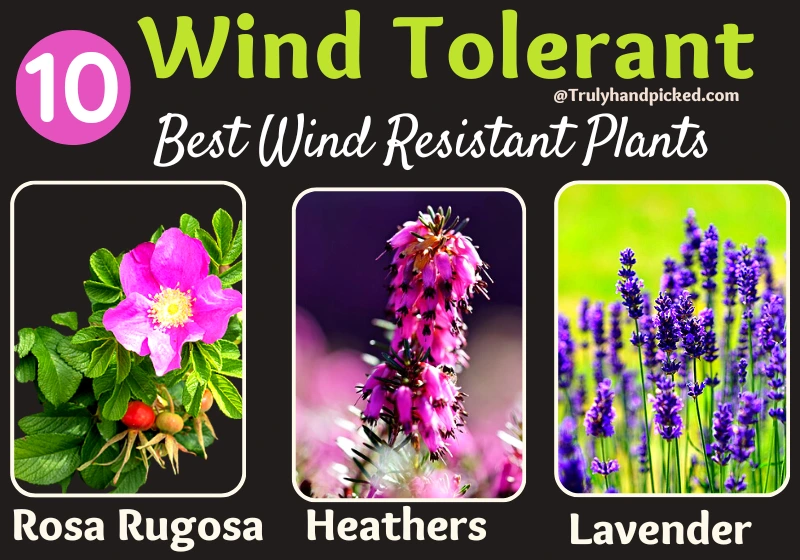 Heathers:
Description:
It's a small perennial woody plant that belongs to the Ericaceae family
Heathers are broad-leaf evergreen shrub-type plants that bloom pretty flowers
It can grow up to 2 inches tall with an equal amount of spread but still stay healthy under heavy winds
This shrub produces flower clusters in stalks that are bee-friendly
Once established they can also handle winter and require less water.
Caring Tips:
Sow your plant in sandy, well-drained type soil that has an acidic pH level
Place your plant in a spot where it can get bright light from full sun to sun with partial shade
One inch of watering per week would be enough to keep your plant healthy
And feed your plant twice a year with simple homemade organic fertilizers
Lavender:
Description:
Lavender is a high-fragrant flowering shrub that belongs to the mint family
This is a long-lived wind-tolerant plant that can live up to 10 years with proper care
Its grey-green foliage and upright flower spikes are enriched with various good properties
Lavenders are famous for being a natural animal and insect repellent due to their high odor
Caring Tips:
This plant prefers dry and well-drained soil types with quite an alkaline pH level
Place it under full sun and keep the soil temperature between 60°-70° F consistently
Water once a week in the first season and then reduce it with like twice a month
Make the soil fully fertile during that plantation and then feed once a year with compost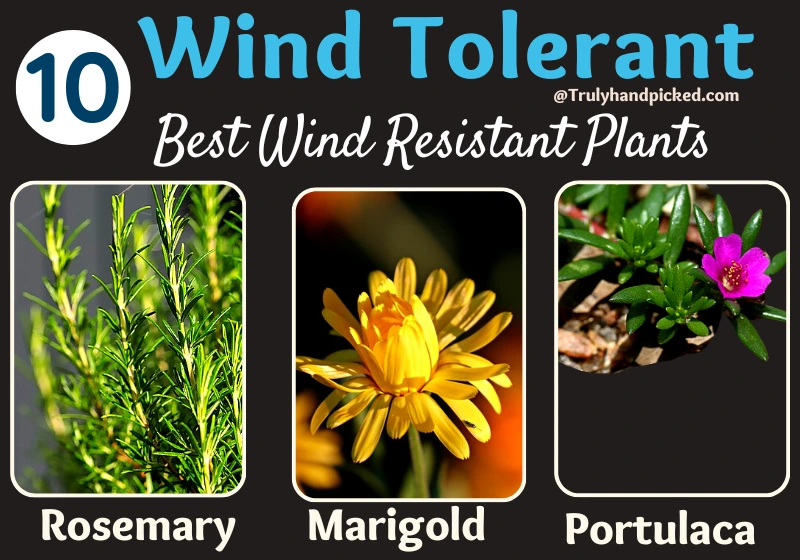 Description:
Marigold is an annual perennial plant that belongs to the daisy family
This plant is a true hardy that can bloom during the hard frost season unaffectedly
It produces multi-petal flowers in yellow to orangish yellow shade around green leaf-fronds
Its foliage has brilliant medicinal value besides a mild fragrance
Caring Tips:
Marigolds are hardy and you should grow them in soil type that drains well
You must plant them deep into the soil like 6-inches depth, unlike normal annual plants
It can stand bright light under full sun exposure
Water your plant regularly, especially during the peak-flowering seasons
Description:
Rosemary is a high-fragrant shrub that is noted for culinary usage
It produces evergreen foliage in a needle-like shape and a deep green tint
The woody stems can bloom with flower clusters during spring through summer
Plants can grow up to 6ft. tall but stays unaffected by heavy winds
Caring Tips:
Use sandy or loamy, well-drained type soil with a slightly acidic pH to sow rosemary plants
Place it under full sun and maintain a growing temperature that is between 55°-80° F
Water your plant once every 3-4 days until it is established well and then, twice a month
Feed your plant with a layer of compost and any balanced liquid fertilizer twice a year
Description:
Purslane aka portulaca is an ornamental flowering plant with a wind-tolerant capacity
This is a flowering succulent that produces blossoms in various vibrant shades
Portulaca grows low on trailing stems and thus, mostly cultivates as ground covers
The specific quality of portulaca plants is that their flowers close at night and reopen in the morning
Caring Tips:
It claims sandy and rocky type soil with a slightly acidic pH level
This plant thrives well when placed under full and bright sunlight
It needs 1-inch of water per week apart from rainy seasons
Feed your plant with a balanced all-purpose fertilizer two-three times a year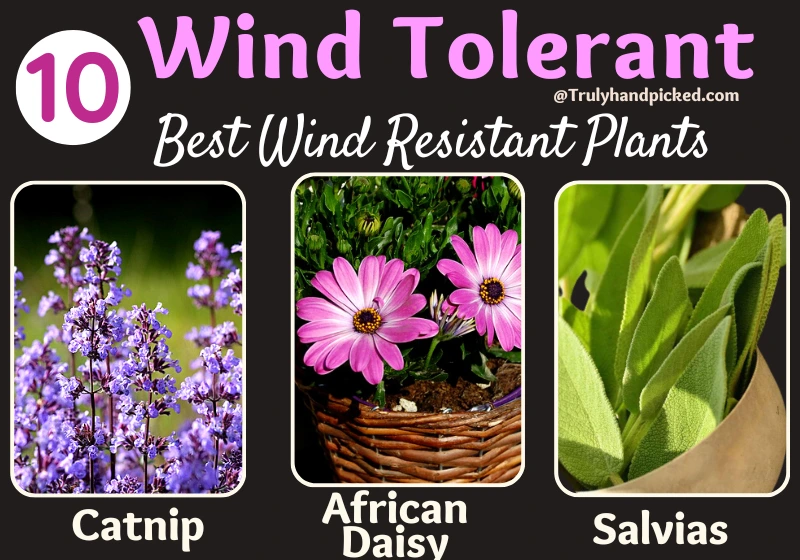 Catnip:
Description:
It is an herbaceous perennial that belongs to the Lamiaceae family
This plant grows an unusual square stem with triangular leaves in a grayish-green tint
It is a quick grower and can grow up to 2-3 ft. tall in its first year
Catnip blooms with beautiful flowers spikes during late spring to early fall
Caring Tips:
Plant your catnip herb in a loamy and sandy type well-drained soil with neutral pH
Place them under a bright spot with full sun exposure
You can provide small shade during afternoons but make it open during the morning
Water your plant once every ten days and never let it row in a soggy condition ever
African Daisy:
Description:
The African daisy is a flowering plant that can stay unhampered by winds despite growing at 3 ft.
This species of daisy plant produces daisy-like widely open flowers but in more vibrant shades
Its foliage is lance-like smooth and lobed in leaf-green shade
You should sow them in the cluster to get the beauty of the flowers more apparently
Caring Tips:
It prefers moist, rich, and well-drained soil with acidic pH
Place your plant under full sun and maintain a temperature between 50°-70° F consistently
Make sure the growing medium has proper air circulation and drainage uninterruptedly
Water your plant one inch per week and feed yearly with any balanced fertilizer
Description:
Salvia is a popular and wind-tolerant species of the sage varieties
Its super vibrating green foliage grows with classy curly edges and waxy coating
Salvia plant blooms with bright flower clusters in upright stalk forms
Its flowers and leaves hold significance due to their heavy medicinal values
Caring Tips:
Sow your plant in a well-drained and moderately rich soil
Water your plant weekly, at least until it establishes well
Use mulching around the base of your plant to control weeds and offer moisture for long
Prune your plant twice a year, especially after the flowers start falling
Japanese Anemones:
Description:
This is one more plant that can fill your garden with pretty flowers without the despotism winds
It is a perennial wildflower that is native to China and belongs to the Anemones
Its pale green leaves seem alluring while adorned with vibrant blossoms during spring
This plant produces double-layered board-petal flowers in several lively colors
Caring Tips:
Give your plant a moist but well-drained growing medium that is rich in organic matter
Water your plant weekly to keep the soil constantly moist but not soggy
Offer your plant full sun with a constantly warm climate
And prune your plant twice a year to keep it clear from any kind of debris or dead parts.